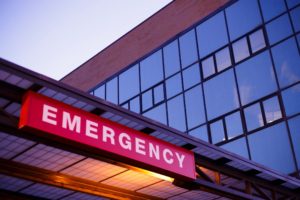 Crisis in the Emergency Department: Removing Barriers to Timely and Appropriate Mental Health Treatment (2015)

A report prepared by the Sierra Sacramento Valley Medical Society
The system of mental health care is fundamentally broken in Sacramento County. Every month over 1,600 children and adults experiencing a mental health crisis end up in one of the Sacramento region's hospital emergency departments (ED) – a number that continues to rise. These patients are frequently "boarded" in the ED, oftentimes for days, until inpatient psychiatric beds become available and the transfer process is completed. This influx of patients has strained the region's EDs, resulting in extended wait times for patients experiencing medical and/or psychiatric emergencies. This process results in the delivery of suboptimal quality of care for patients, ED overcrowding, as well as increased lengths of stay and higher risks of adverse outcomes for all ED patients.
Bearing witness to these worsening trends, SSVMS has developed the white paper, Crisis in the Emergency Department: Removing Barriers to Timely and Appropriate Mental Health Treatment, with the goal of assessing the historical events leading up to this mental healthcare delivery crisis.
Publications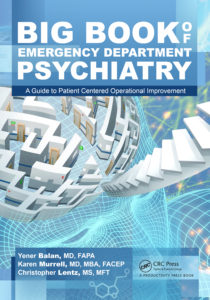 Big Book of Emergency Department Psychiatry. Yener Balan, MD, Karen Murrell, Christopher Bryant Lentz MS, MFT. September 18, 2017.
Download Chapter 7, "The Myth of Medical Clearance" Here
"The Diagnosis and Management of Agitation", Edited by Scott L. Zeller, Kimberley D. Nordstrom and Michael P. Wilson, Cambridge University Press, 2017.
Articles
"The SMART Medical Clearance Protocol As A Standardized Clearance Protocol For Psychiatric Patients In the Emergency Department." Chi J. Nwaobiora. International Journal of Current Research, Vol. 9, Issue, 09, pp.57140-57147, September, 2017.
"SMART Medical Clearance: A Community Collaboration". Aileen E. Wetzel, Sierra Sacramento Valley Medicine, November/December 2017.
"Stop the Madness: A Smarter Way of Medical Clearance". Aimee Moulin, M.D., Sierra Sacramento Valley Medical Society Medicine, November/December 2017.
"From SMART to FAST". Amy Barnhorst, M.D., Sierra Sacramento Valley Medicine, November/December 2017.
"Performance of the Hack's Impairment Index Score: A Novel Tool to Assess Impairment from Alcohol in Emergency Department Patients". Jason Hack, M.D., Eric Goldlust, M.D., Dennis Ferrante and Brian J. Zink, M.D., Society for Academic Emergency Medicine, July 30, 2017.
"Psych Units in the ED: Trend, Solution or Neither?" Michael Levin-Epstein, J.D. M.ED., Emergency Physicians Monthly, November 18, 2015.
"Crisis in the Emergency Department," Aileen E. Wetzel, Sierra Sacramento Valley Medicine, Sept/Oct 2015
Emergency Department Toolkit: Behavioral Resources for the emergency department, California Hospital Association.